Artists from the Harlem art collective, HangNight™️ will line the walls of Strand's rare book room while Jeanne Proust teaches an Olio that explores community from a new perspective.
The term community seems to systematically assume a positive meaning in the US. From the Latin
communis
, "shared in common", it refers to a social unit which members have something in common that gives them an identity. These things in common may be religion, race, values, beliefs, resources, needs - based on social ties such as family, work, commitment to a cause. This group cohesiveness is supposed to create a
sense of community
that we automatically correlate with ideas such as solidarity, generosity, sharing. Sharing amongst whom exactly, though?
When we closely observe sociologically how certain communities function not within themselves, but in relation with each other, we often notice a total absence of curiosity for outsiders – when it's not blunt rejection. We'll discuss the extent to which we can differentiate the sense of community from the clannishness it might lead to. By reinforcing our community identity, we value what is identical within ourselves, and we might build this identity mainly against others, simultaneously creating and digging frontiers between social groups - instead of opening them.
---
This event is in partnership with HangNight™️– salon-style evenings of creative expression based in Harlem in the Heath Gallery that always includes the visual arts and an open mic for poetry, and vocal performers and have also included dance performers, musicians, essayists or a mini-fashion presentation. Hang Night will have art on view and the artists will talk briefly about their work.
Mark Godoy Jr. - a first generation American born artist of Guyanese-Belizean descent. His current body of work entitled, The Tribute Series, highlights the issues of police violence and racial discrimination that black men, women and people of color are facing in America today. The portraits are mixed media collages using paint swatches and various other mediums. This method calls upon resourcefulness in the midst of scarcity. It is a literal and metaphorical reconstruction of the self-image. It requires the viewer to confront the clutter of negative racial narratives to clear a path for connection on a human-to-human level. This effort aims to humanize the victims and memorialize them as beautiful works of art which can open a conversation about the complexities of race relations in America.
Tasha Douge - Driven by conceptual ideas and with the use of mixed media, Tasha gives birth to art that challenges the audience to grapple with the ideals of tradition and conventional ways of thinking. By using interactive components, she has been able to integrate her audience into her some of the works during the process or as an integral part to bringing the piece(s) to life. With women empowerment initially being the focal point, her work has quickly evolved to address the additional issues of social injustice, activism, racism and those that overall speak to the Black experience. Tasha continues to create provocative works that will elicit authentic, raw and at times, uncomfortable feelings. It is with those feelings that Tasha wishes to spark open and honest conversations that will lead to change and furthermore, REFORM.
Marco Dasilva was born and raised in NYC. He received his BFA in Painting and Drawing at SUNY New Paltz. His works explore the notions of euphoria, polarity and excess through his graphic style of painting, often using bright neon colors to evoke a tropical mood of vice and opulence. He creates his own mythology in the process, providing a richly saturated landscape of his own world to the viewer.

Julieta Varela- Her creations meditate on natural and urban sanctuaries. She grew up in Harlem and Washington Heights, as a 1st generation Brazilian New Yorker. She is a co-organizer of HangNight™️. Julieta's artwork primarily incorporates drawing, painting and repurposing materials into sculptural and 2-dimensional assemblages. Her efforts to deepen her own mindfulness and eco-consciousness are in dialogue with her mixed media practices. While reflecting her observations, she intends to transport viewers to the sacred spaces of her memories and imagined havens.

Elijah Bleu - May 26th 2017 was the night I became infamously known as "Bleu Pablo". I'll never forget the feeling the first time I put myself on display. The people, the lights, the extreme nervousness, but most of all I will never forget that first compliment about my painting. Through major transitions in my life, HangNight™️'s platform and atmosphere solidify my purpose in life to become an artist. My goal now is to pass carry on tradition to create more platforms for artists who do not get the attention they deserve.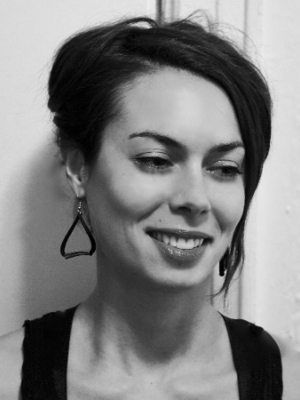 Teacher: Jeanne Proust
While teaching at different universities in New York, Jeanne is advocating for a widening of philosophical education beyond the academia frontiers by participating in different events open to the general public. She taught at Rikers Island as a volunteer, and regularly gives public talks in philosophy, leading her to recently produce her own podcast, "Can You Phil It?".
---
Venue: Strand Bookstore

---

Add to Calendar

Oct. 12, 20187 p.m.

Oct. 12, 2018

America/New_York

Think Olio | Communities and Their Pitfalls

Artists from HangNight™️ line the walls of the Strand while Jeanne Proust teaches an Olio on community from a radical perspective.

None